About Repsol - LINK

Price List - LINK

Since1988 Repsol S.A. has grown to be one of the world's largest oil companies. An important part of Repsol's growth strategy has been the decision to appoint distributors into the markets they did not have prior representation.

Repsol S.A. currently exports finished lubricants to over 65 countries. It has a large Technical Service and Development Team that is supported by a Research Team of over 250 people, who are responsible for the ongoing development of high quality lubricants.

Repsol S.A. has over the years, and still does, consult with many of the worlds leading motor vehicle and motor cycle manufactures, to ensure its products meet and exceeds their oil specifications. The list of manufactures includes companies such as, Mercedes Benz, Audi/Seat, Ford, GM, Citroen/Peugeot, Renault, Nissan, Fiat (including Ferrari), Aprillia, Yamaha, Suzuki and Honda.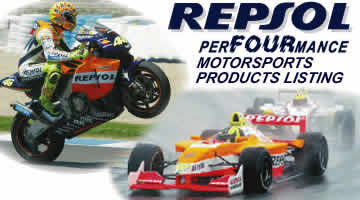 BELOW IS A LIST OF THE PRODUCTS WE USE.
YOU CAN CLICK ON THE DESCRIPTION TO FIND MORE ABOUT THE PRODUCT. FOR MORE INFORMATION PLEASE CONTACT US.